Over 30 years of experience working with all makes and models of vehicle.
Home Start and Recoveries.
Fully equipped with the latest diagnostic equipment.
Specialists in Volkswagen Audi Vehicles.
Car Doctors Nottingham - Repairs
Diagnostics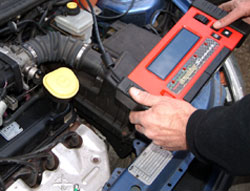 Any lights on the dash lately? You may be running around for now but it will let you down.
We can test for all warning light problems, including:
Air Bag
Anti Lock Brakes (ABS)
Traction Control (TC)
Malfunction Indicator Lamp (MIL)
Engine Management Systems (ENG MAN)
All makes and models tested and diagnosed if we cannot read a code there is no charge!
We have all the latest diagnostics equipment and software to find the most troubling problems. We can test your vehicle for emissions related problems on our four gas analyser.
We charge £39.00 per hour diagnostics labour and £20.00 for an emissions test and diagnostic check (all prices are plus VAT)
What our customers are saying about us
Outstanding service. I cannot rate them highly enough!
Steve Shaw
Absolutely the best. I will not go anywhere else.
John Biggs
Always great service.
Jenny Brown